21
Honey Garlic Glazed Salmon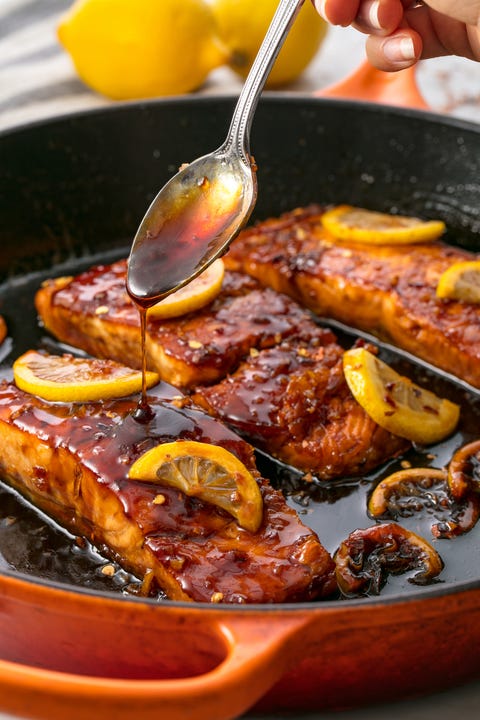 ETHAN CALABRESE
A longtime favorite of Delish readers, this savory-sweet salmon never disappoints. Searing fish might seem intimidating but, once you get the hang of it, it'll be second nature—just follow our easy tips.
Get the Honey Garlic-Glazed Salmon recipe.
22
One-Pot Vegetarian Chili Mac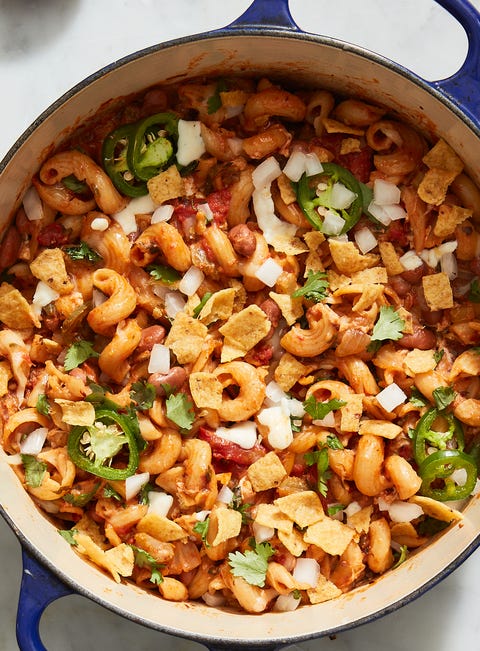 JOEL GOLDBERG
Looking for a hearty weeknight dinner? Our smoky vegetarian chili mac is here to save the day! It all comes together in one pot, and it's SUPER versatile. Throw in your favorite bean and pasta shape, melt in your favorite cheese, and top with whatever you like (as long as it's crunchy!).
Get the One-Pot Vegetarian Chili Mac recipe.
23
Bucatini all'Amatriciana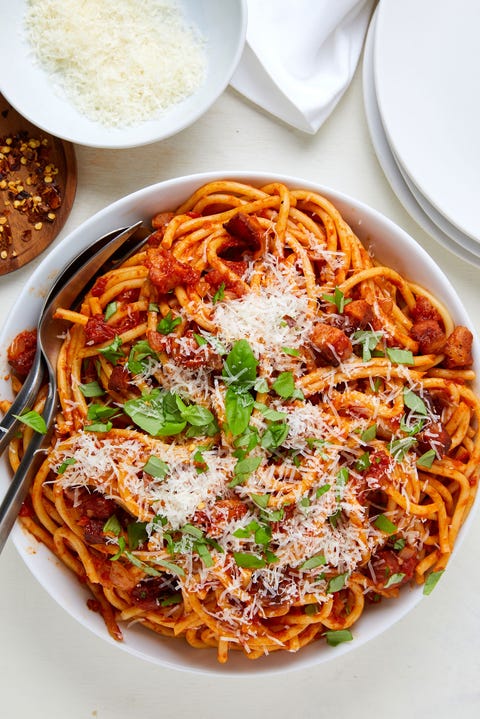 LUCY SCHAEFFER
If you're in a pinch you can sub bacon for the pancetta in this classic pasta dish, but we think it really does make a difference in the outcome. It doesn't take hours to simmer, but still comes out to be one of the best pasta sauces we've ever had. Be sure to top with lots of Pecorino and basil!
Get the Bucatini all'Amatriciana recipe.
24
Sheet-Pan Lemon Butter Chicken Thighs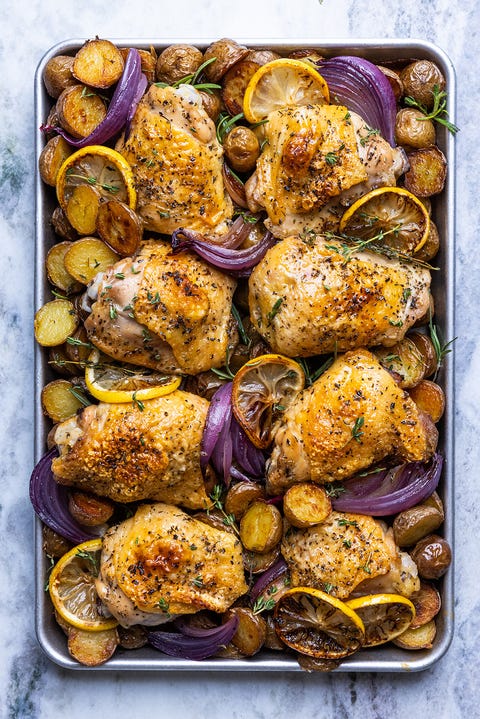 EMILY HLAVAC GREEN
Tossed with potatoes, lemons, onion, and an herby butter, these chicken thighs are so easy to throw together and only dirty one. single. pan.
Get the Sheet-Pan Lemon Butter Chicken Thighs recipe.
25
Copycat Chicken Lettuce Wraps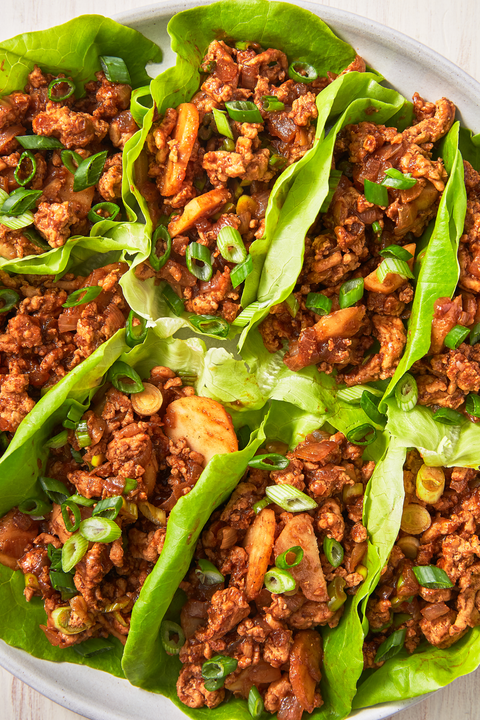 PARKER FEIERBACH
In our attempt to copy the fan favorite from P.F. Chang's, we flavored ground chicken with hoisin sauce (a fermented bean paste that gives the chicken the quintessential Chinese-American flavor), soy sauce, rice wine vinegar, sriracha, and sesame oil. Water chestnuts add a nice crunch here too.
Get the Copycat Chicken Lettuce Wraps recipe.
26
Pan-Fried Tilapia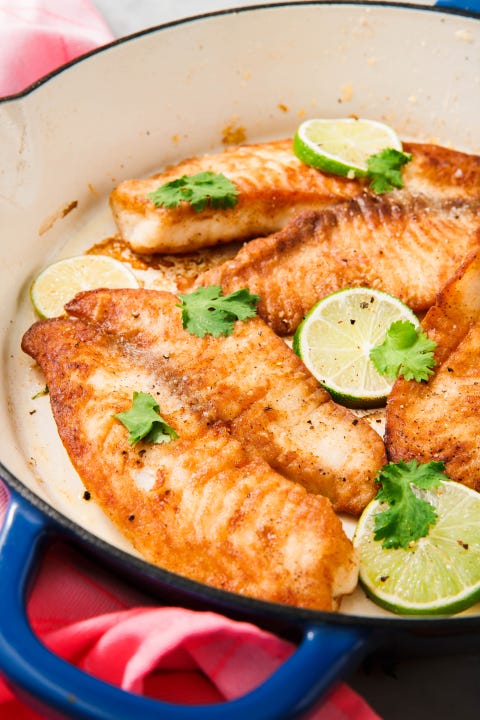 PARKER FEIERBACH
We're here to vouch for tilapia; it has so much to offer! It's lean and inexpensive, making it a great choice for your next weeknight dinner. Follow a few simple rules and take this affordable fillet from zero to hero.
Get the Pan-Fried Tilapia recipe.
27
Italian Sausage & Pepper Frittata Affogato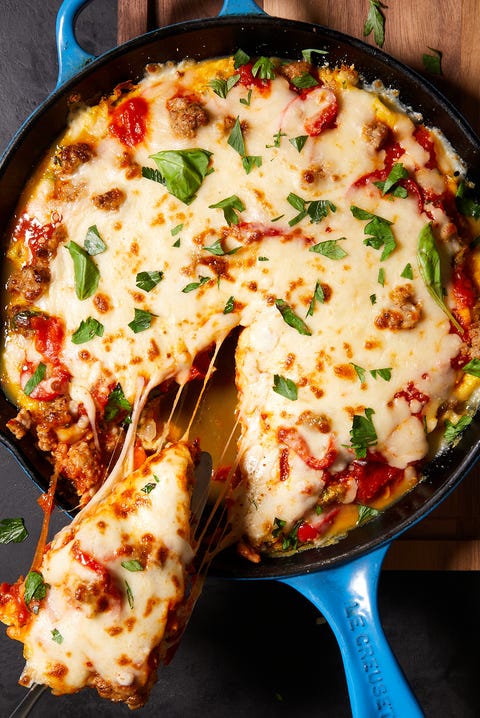 PHOTO: LUCY SCHAEFFER PHOTOGRAPHY; FOOD STYLING: MAKINZE GORE
Breakfast meets dinner in this marinara- and mozzarella-topped dish. Fittingly, the Italian word "affogato" means drowned, which explains the marinara topping. It lends this dish a vibe somewhere between a breakfast frittata and pizza, meaning it's enjoyable for pretty much any meal of the day.
Get the Italian Sausage & Pepper Frittata Affogato recipe.
28
Shrimp & Snow Pea Stir Fry
LUCY SCHAEFFER
This dinner is the perfect fix for a busy weeknight. Only 5 ingredients and 1 skillet and you're on your way! Allowing the shrimp some time to marinate adds an extra layer of flavor to really make those 5 ingredients stretch. But DON'T let that stop the imagination from flowing—just like you can swap the ingredients, you can add more as well.
Get the Shrimp & Snow Pea Stir Fry recipe.
29
Slow-Cooker Chicken Posole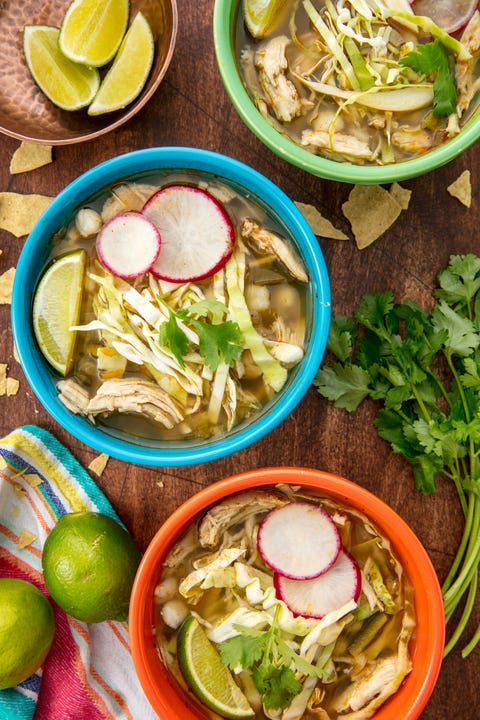 ETHAN CALABRESE
Make no mistake: This slow cooker version isn't authentic, but it's quick, easy, flavorful, and filling. Mix and match your favorite toppings and feel free to sub in your favorite protein—pork, beef, or turkey would all be delicious. Just be sure to adjust your cook time accordingly. If you're looking for something more classic, check out our best-ever red pozole.
Get the Posole recipe.
30
TikTok Ramen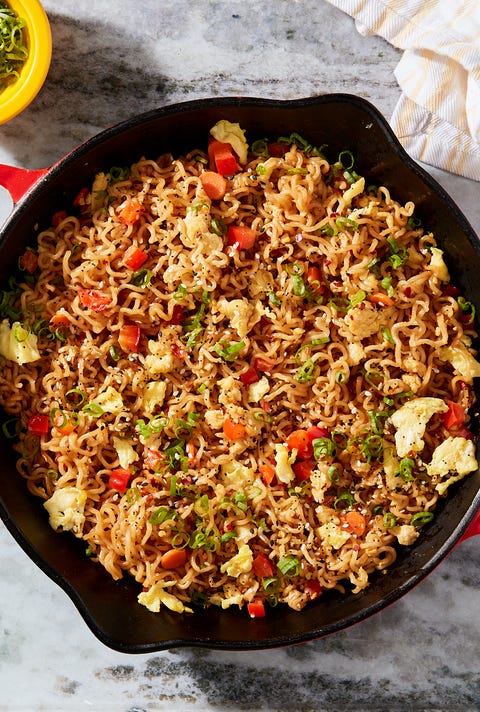 JOEL GOLDBERG
This amazing dinner hack brings us back to college, in the best way possible. Have fun customizing the noodles with your favorite veggies and toppings, and don't doubt the everything bagel seasoning (either from a shaker or homemade)—just do it.
Get the TikTok Ramen recipe.
31
Coconut Curry Salmon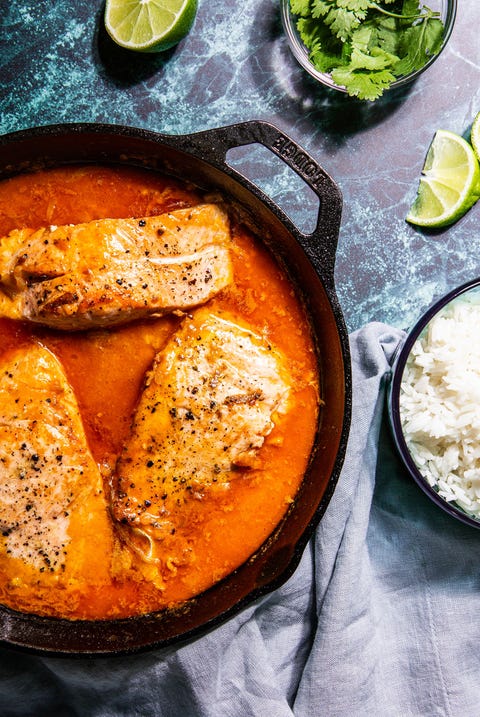 EMILY HLAVAC GREEN
The coconut milk and spice go so well together here, making a rich, but not heavy, sauce that really tastes and feels far more complicated than it is. The salmon simmers in the milk, keeping it very tender and flaky and extra flavorful. Spoon the sauce over the salmon a few times as it cooks to give it a nice coating.
Get the Coconut Curry Salmon recipe.
32
Thai Fried Rice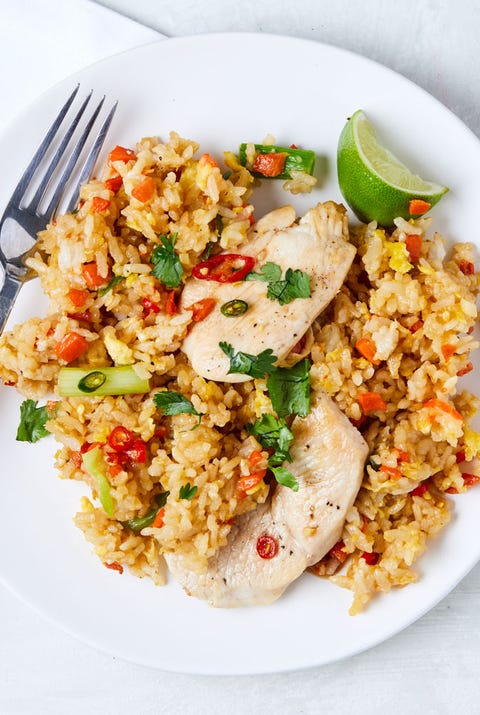 LUCY SCHAEFFER
Rather than soy sauce, which a traditional Chinese-style fried rice would use, our Thai fried rice uses fish sauce to give this its signature funk. If you're a lover of spice, you'll appreciate the punch of Thai red chiles here: Use at your own discretion; they are potent in heat!
Get the Thai Fried Rice recipe.
33
Kung Pao Chicken Meatballs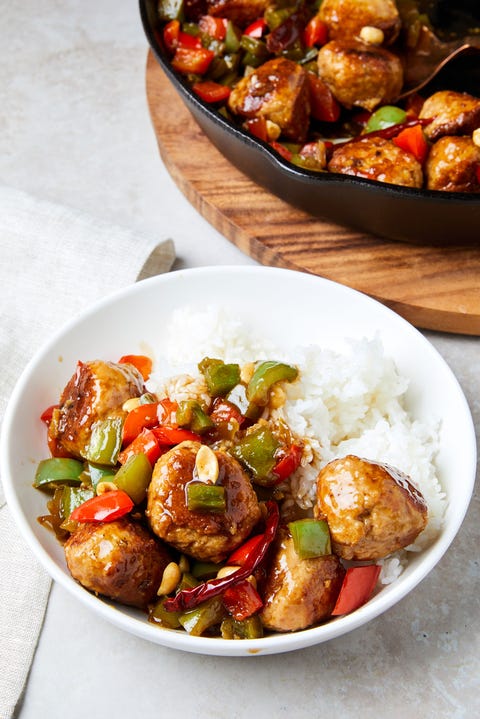 LUCY SCHAEFFER
If you are looking to spice up your routine chicken dinners, look no further. These chicken meatballs have a kick from a traditional kung pao sauce that gets most of its heat from dried red chiles, which you can always cut back on. These meatballs are filling on their own, but serving over rice will also help cut some of the heat!
Get the Kung Pao Chicken Meatballs recipe.
34
Shrimp Scampi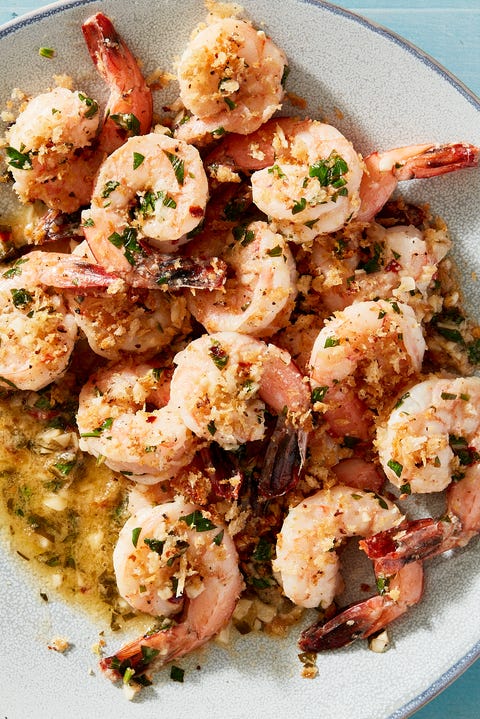 JOEL GOLDBERG
Shrimp scampi is an Italian-American dish that is usually made using plump, pink shrimp served over a heaping bowl of pasta. We think the pasta detracts from the delectable simplicity of this dish, so we made it without, but feel free to add some if you like!
Get the Classic Shrimp Scampi recipe.
35
Garlicky Roasted Cauliflower Pasta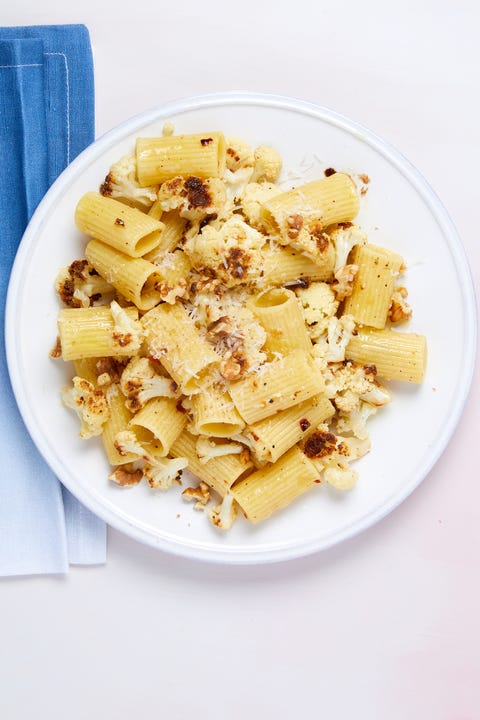 LUCY SCHAEFFER
In this recipe, cauliflower gets mashed into a paste to create a light sauce for the pasta that adds a ton of flavor. It's simple, light, and perfect for when you want comfort without being weighed down by something overly rich. The toasted walnuts on top add a nice crunch and really complete the dish, but feel free to skip or swap for another nut.
Get the Garlicky Roasted Cauliflower Pasta recipe.
36
Vegan Crunchwraps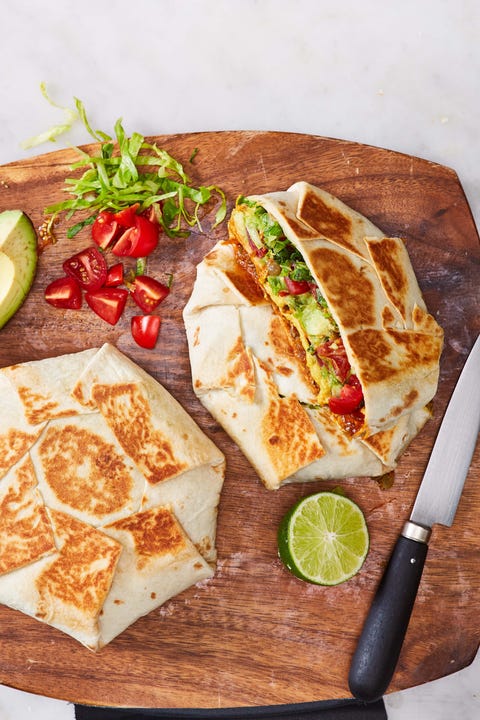 ERIK BERNSTEIN
We updated the fast food favorite to be totally vegan and completely irresistible. Creamy vegan queso dip and meaty lentils make a satisfying filling while a quick trip in a hot skillet adds crunch to every bite.
Get the Vegan Crunchwraps recipe.
37
Tofu Katsu Curry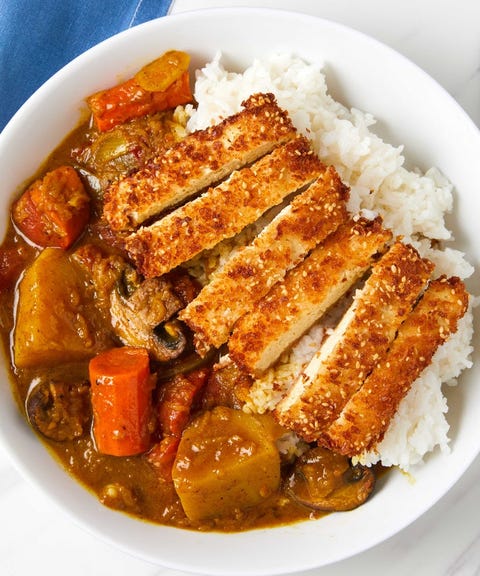 LUCY SCHAEFFER PHOTOGRAPHY
This hearty Japanese dinner comes complete with crispy sesame-panko-crusted tofu, tender vegetables, and a rich and flavorful curry sauce.
Get the Tofu Katsu Curry recipe.
38
Tuscan Butter Gnocchi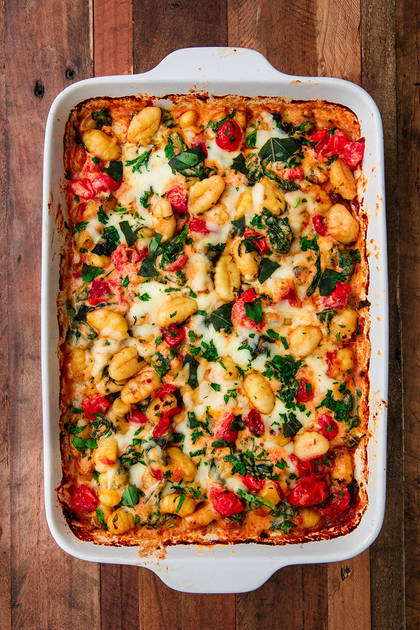 PARKER FEIERBACH
Tuscan butter is perfect on everything. Literally. We love it on shrimp, salmon, chicken, and now, gnocchi.
Get the Tuscan Butter Gnocchi recipe.
39
Skillet Lemon-Herb Chicken and Potatoes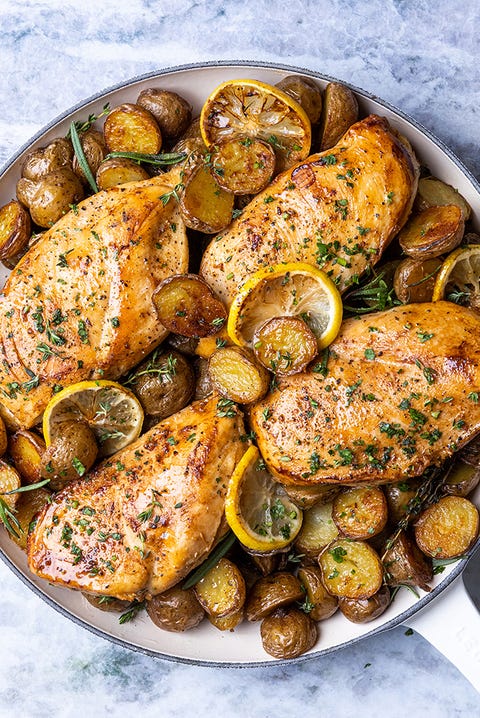 EMILY HLAVAC GREEN
It's one of our favorite tricks at Delish: cooking all components of a dish—protein, carbs, vegetables—in a single skillet. Quick-cooking boneless skinless chicken breasts stay moist and tender thanks to pan-roasting and a tangy lemon-butter sauce. If you can't find small potatoes, feel free to cut up larger ones to about 1-inch pieces.
Get the Skillet Lemon-Herb Chicken and Potatoes recipe.
40
Creamy Mushroom Pasta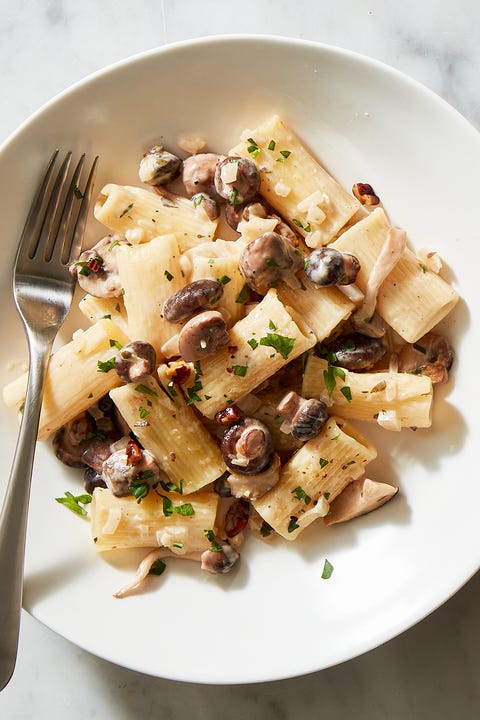 JOEL GOLDBERG
If a bowl of creamy, earthy, umami-rich pasta sounds good to you, give this flexible recipe a go. It tastes great with any variety of mushrooms, and is easily adapted with alternate alliums, herbs, nuts, pasta shapes, and hard cheeses.
Get the Creamy Mushroom Pasta recipe.
41
Balsamic Basil Chicken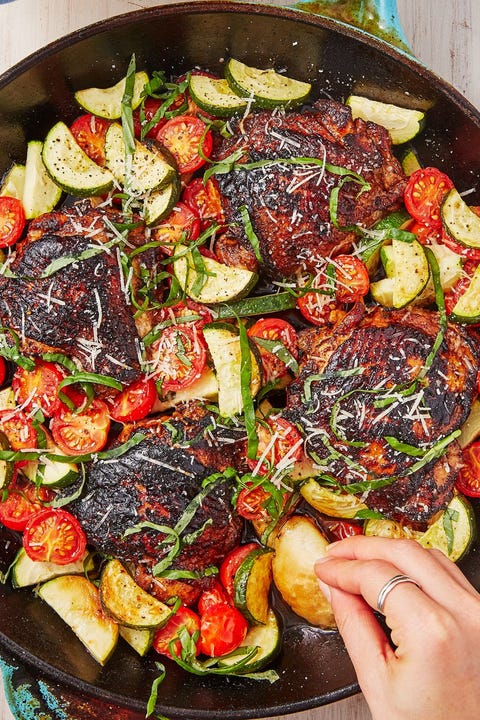 PARKER FEIERBACH
After marinating the chicken, everything—including the veggie side!—comes together in one pan in less than 30 minutes. Call it another skillet chicken dinner win!
Get the Balsamic Basil Chicken recipe.