These next few posts of Cooking Broke will be the top 70 cheap and easy dishes that anyone can make!
1
Classic Stuffed Peppers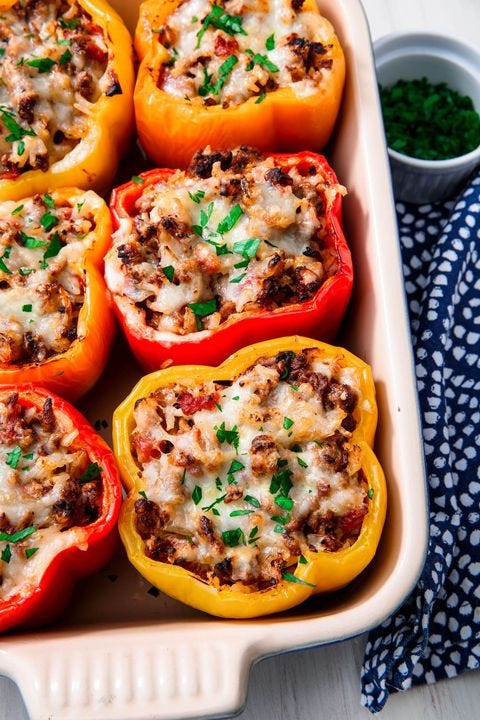 PARKER FEIERBACH
The bell pepper is an excellent vessel for stuffing meat, rice, and, of course, cheese. It's strong enough to hold its shape in the oven, and the flavor is subtle enough to go well with just about anything. This is our favorite recipe, but the customization options are endless.
Get the Classic Stuffed Peppers recipe.
2
Black Bean Tostadas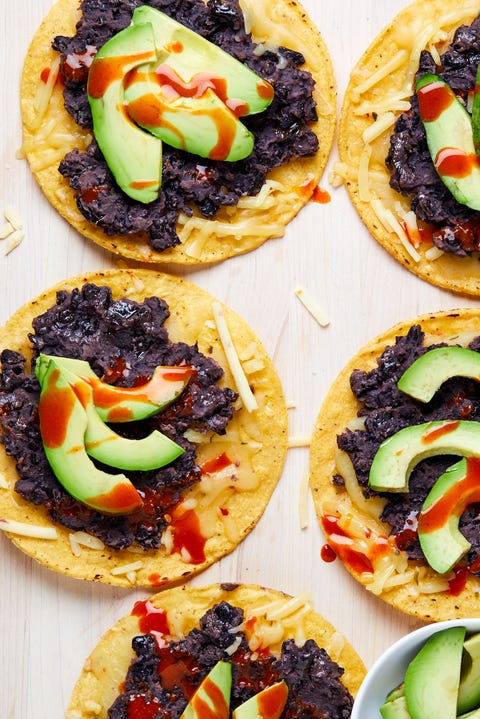 LUCY SCHAEFFER
With only 5 ingredients, these black bean tostadas are the easiest and fastest meal to throw together. You can always include additional toppings like corn salsa, avocado ranch, or endless crunchy veggies like radishes or pickled red onions, but these are also delicious if you keep things simple, like we did here.
Get the Black Bean Tostadas recipe.
3
Arroz Con Pollo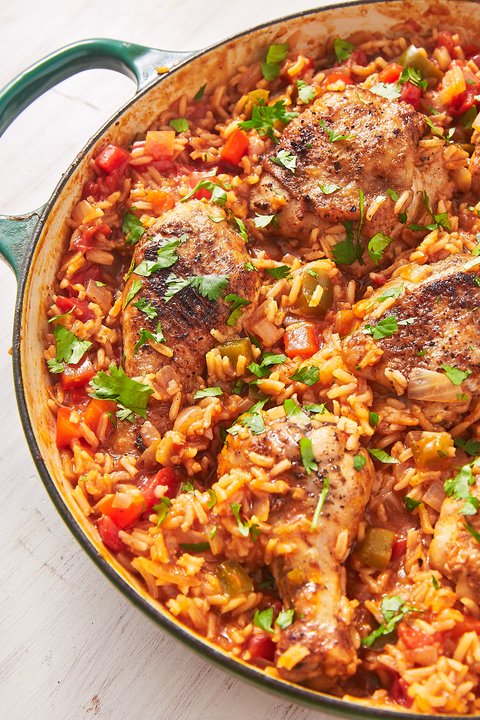 PARKER FEIERBACH
Want something awesome for dinner but don't want to spend your entire evening cooking and cleaning? Arroz con pollo (chicken with rice in Spanish) is the the perfect recipe. It's an easy one-pot meal that doesn't taste like one, and it tastes even better as leftovers.
Get the Arroz Con Pollo recipe.
4
Creamy Steak Fettuccine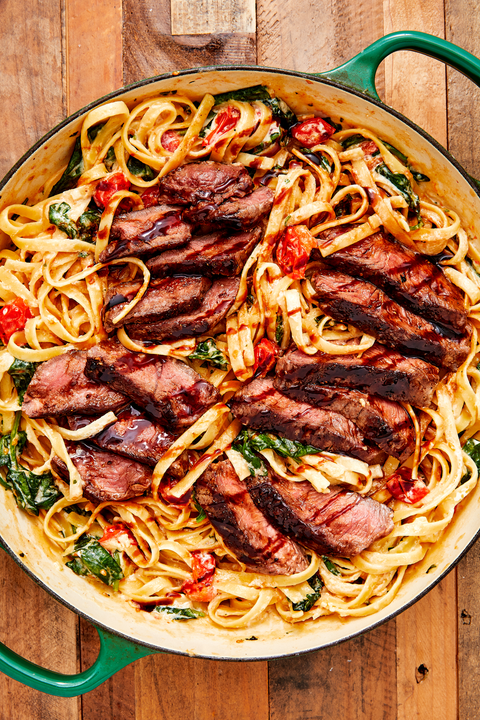 PARKER FEIERBACH
Whenever we crave steak, this dish is always what we want to make. It comes together quickly and is so full of flavor. It makes us forget chicken fettuccine Alfredo ever existed. If you want the steak without the pasta, may we suggest Cajun butter steak?
Get the Creamy Steak Fettuccine recipe.
5
Baked Risotto with Lemon, Peas & Parmesan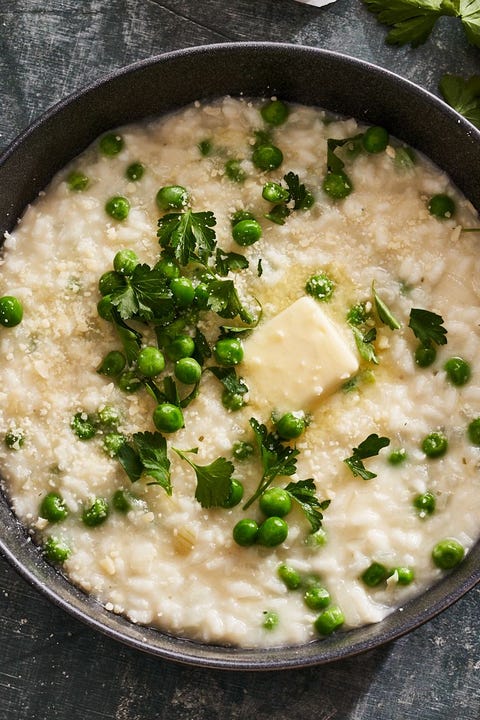 ANDREW BUI
If you've never made risotto because you didn't want to stand there stirring forever, then this recipe is for you. It packs all the satisfying flavor of a slow-stirred version into a fraction of the hands-on time!
Get the Baked Risotto with Lemon, Peas & Parmesan recipe.
6
BBQ Chicken Twice-Baked Potatoes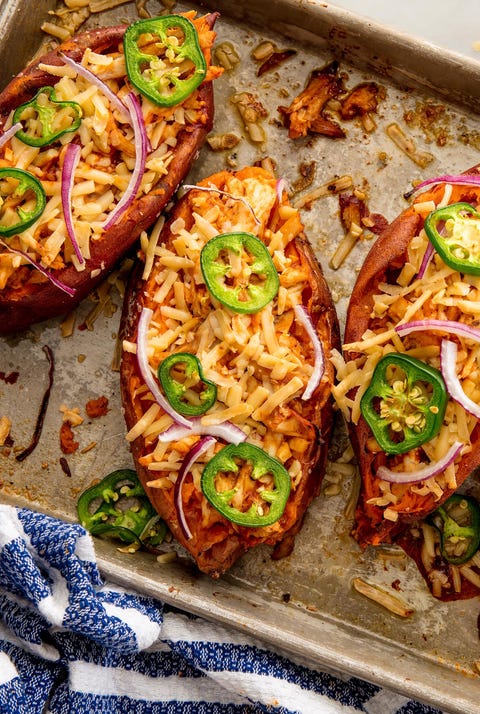 ETHAN CALABRESE
Missing summertime BBQ chicken? Stuff sweet potatoes with rotisserie chicken and your favorite BBQ sauce, then top them with Gouda for a healthy chicken dinner you can enjoy long into fall and beyond.
Get the BBQ Chicken Twice-Baked Potatoes recipe.
7
Pad Thai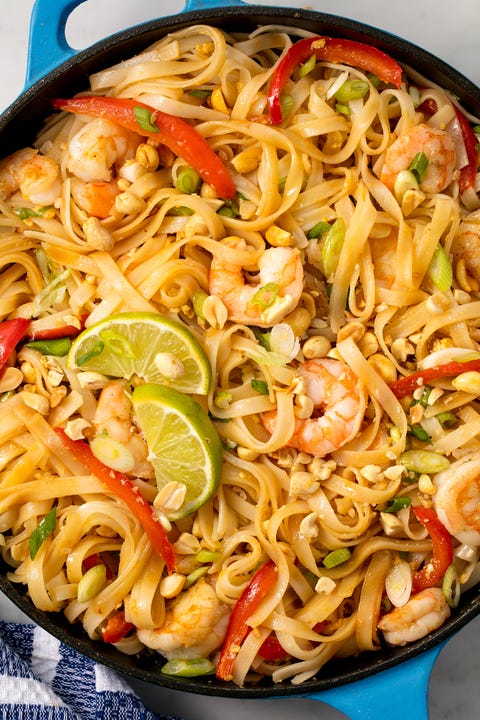 ETHAN CALABRESE
An easy alternative to takeout, our simplified pad Thai recipe is designed to satisfy noodle cravings fast. We skipped some traditional ingredients (such as dried shrimp, tamarind, pressed tofu, and bean sprouts), opting for ingredients that you can pick up at your local grocery store.
Get the Pad Thai recipe.
8
Breakfast Tostadas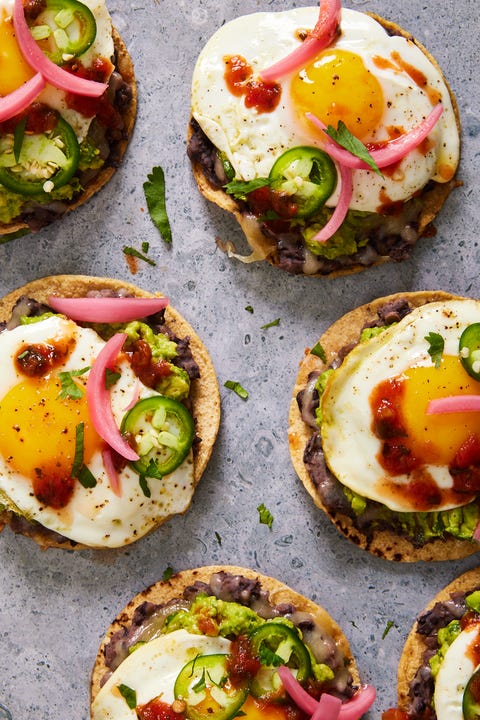 PHOTO: ERIK BERNSTEIN; FOOD STYLING: MAKINZE GORE
We LOVE breakfast for dinner, and one of our faves is these tostadas. The best part is you can change up the toppings every time you make them, and they'll always be an incredibly easy and delicious dinner (or anytime meal!).
Get the Breakfast Tostadas recipe.
9
Chicken Pot Pie Casserole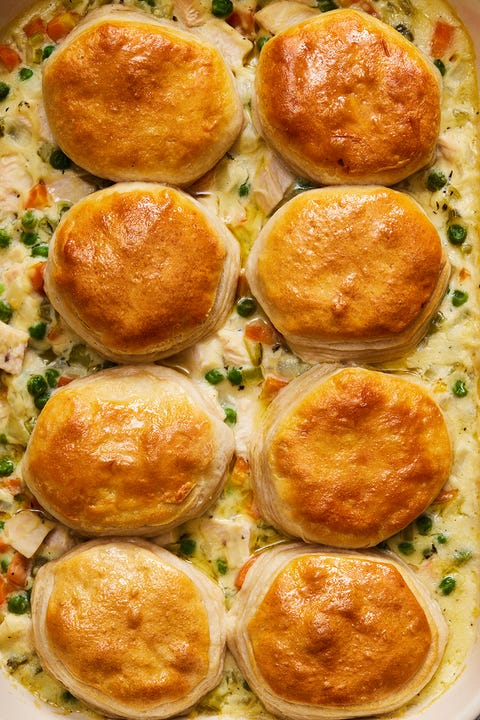 ERIK BERNSTEIN
If chicken pot pie excites you, but pie crust intimidates you, you've arrived at the perfect recipe. Classic chicken pot pie filling is baked into a stress-free casserole and, best of all, topped with biscuits baked to a tantalizing golden brown.
Get the Chicken Pot Pie Casserole recipe.
10
Homemade Crunchwrap Supreme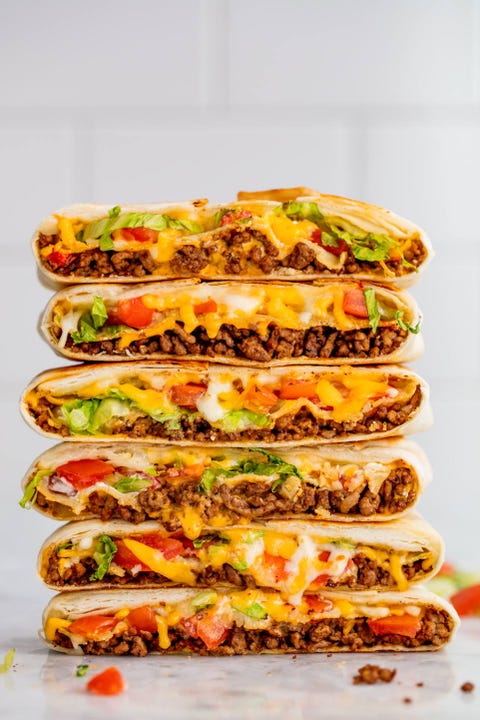 ETHAN CALABRESE
We're so obsessed with Taco Bell's Crunchwrap Supreme that we have not one, but TWO copycat recipes. And while we love our vegan Crunchwrap, we still have a special place in our hearts for the original meat-loving version. They're not Taco Bell prices, but they're still pretty dang close.
Get the Copycat Taco Bell Crunchwrap Supreme recipe.
11
Best-Ever Buffalo Chicken Pizza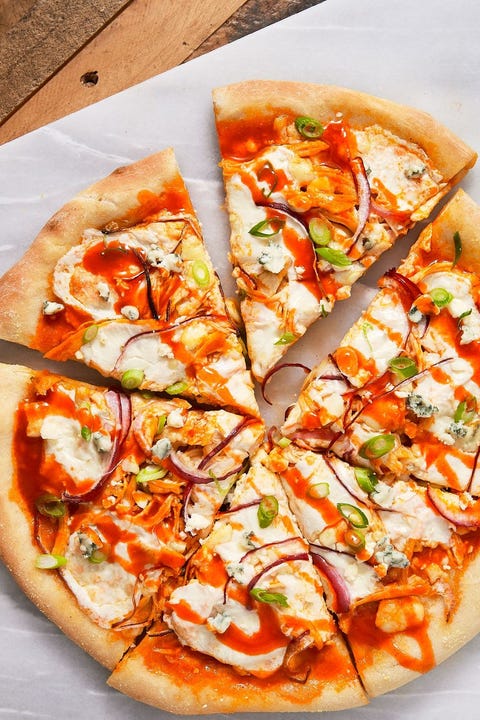 PARKER FEIERBACH
Got some leftover roasted chicken or rotisserie chicken? This pizza is the PERFECT way to use it! Buffalo sauce is one of our favorite ways to doctor our leftovers, and if you've still got some leftover rotisserie chicken, you've got to try this combo in our Buffalo baked ziti recipe.
Get the Best-Ever Buffalo Chicken Pizza recipe.
12
Smoked Salmon Pasta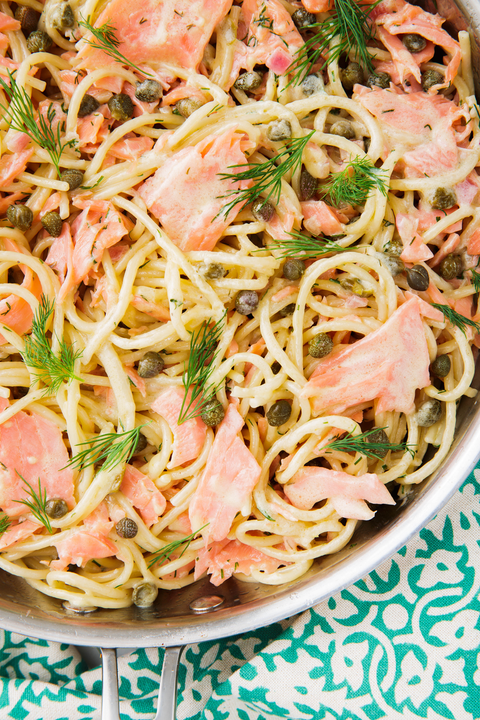 PARKER FEIERBACH
Smoked salmon pasta sounds really fancy, but the truth is it's one of the easiest and fastest dinners we've ever made. It comes together in just under 30 minutes, making it the perfect dish to whip up for a weeknight seafood dinner, but still good enough to impress your guests for holidays and celebrations.
Get the Smoked Salmon Pasta recipe.
13
Chicken Fried Rice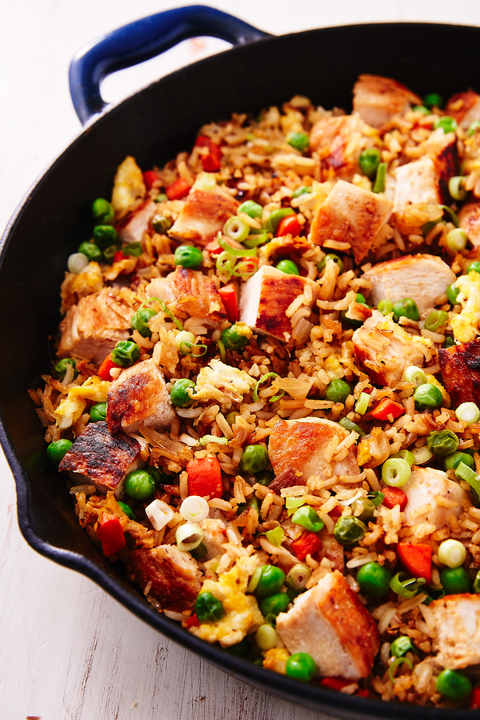 PARKER FEIERBACH
This dish started as way to use leftover rice that has dried out and may not be great on its own, but is still perfectly edible. The addition of oil and soy sauce and veggies and meat spruce up the rice for a delicious meal.
Get the Chicken Fried Rice recipe.
14
Vegan Lasagna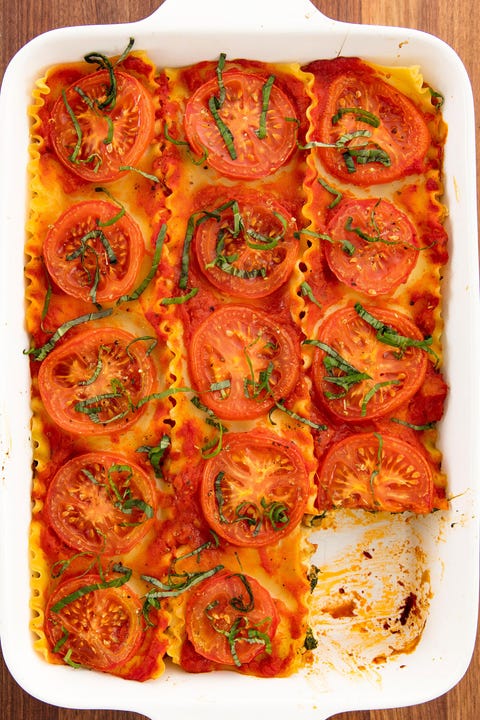 ETHAN CALABRESE
Tofu replaces ricotta in this vegan version of classic lasagna. Add that to a béchamel-inspired white sauce, and you've got a vegan dinner that won't make you feel at all deprived.
Get the Vegan Lasagna recipe.
15
Baked Feta Pasta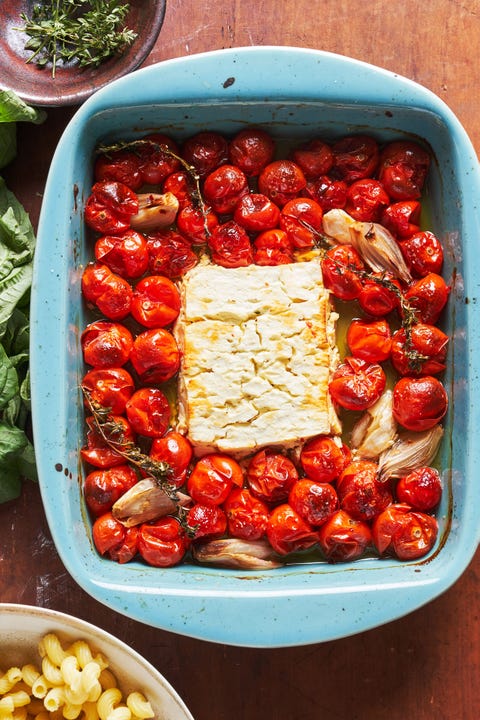 ANDREW BUI
This pasta went viral on TikTok, and for good reason! Roasting a block of feta with bursting tomatoes is amazing, and you can add things like shallots and smashed garlic to make it your own.
Get the Baked Feta Pasta recipe.
16
Creamy Kale & Gnocchi Bake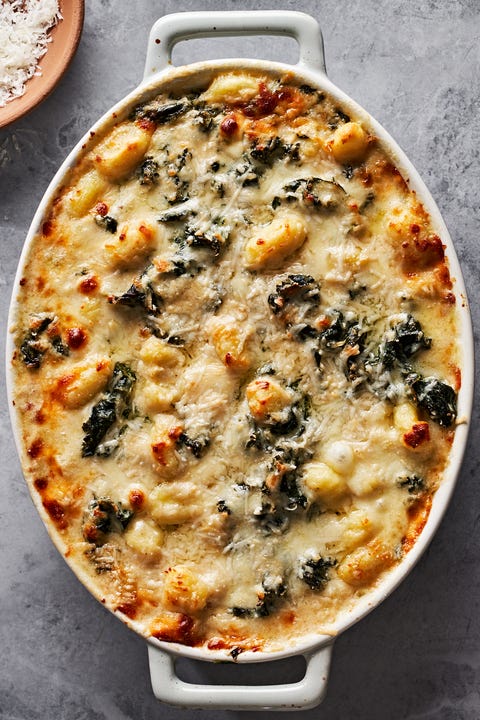 PHOTO: ANDREW BUI; FOOD STYLING: MAKINZE GORE
Fans of creamed spinach will absolutely love this hearty, creamy kale and gnocchi bake that puts the classic side dish front-and-center on your plate with gnocchi as the main attraction. It's quick to put together since the gnocchi cook right in the sauce, making them extra-creamy and delicious.
Get the Creamy Kale & Gnocchi Bake recipe.
17
Garlicky Lemon Baked Tilapia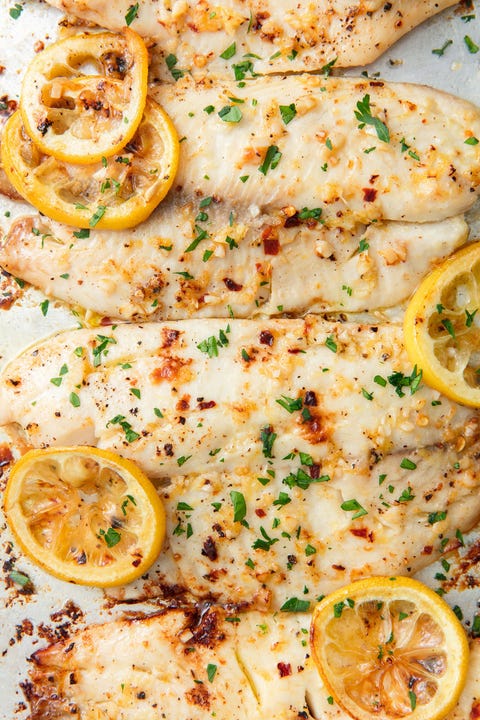 PARKER FEIERBACH
Tilapia has a very mild fish taste and is a great way to get those non-fish eaters to love it. We cooked ours in plenty of butter, lemon, and garlic to make it bright and fresh and easy for everyone to enjoy. Baking it requires very little effort with zero risk of the fish sticking to your skillet or grill. A win win!
Get the Garlicky Lemon Baked Tilapia recipe.
18
Air Fryer Chimichangas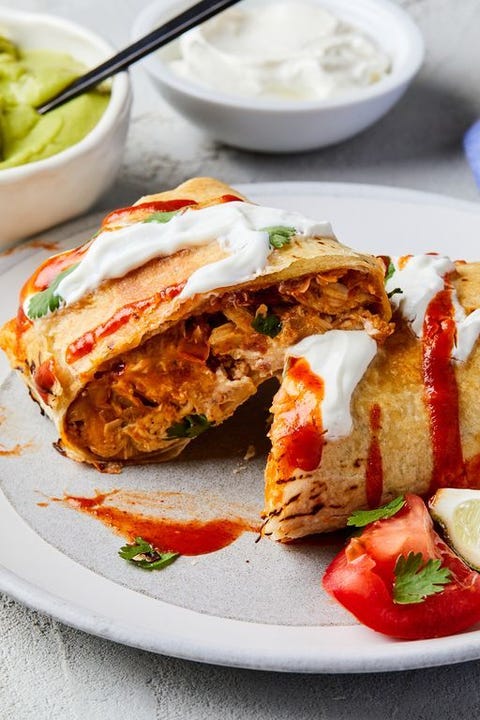 LUCY SCHAEFFER
Chimichangas are essentially fried burritos, which, don't get us wrong, we absolutely LOVE—but sometimes we're not all about the excess oil or messy deep frying. Make these in the air fryer instead for an exceptionally crispy burrito, with half the effort!
Get the Air Fryer Chimichangas recipe.
19
One-Pan Creamy Chicken & Gnocchi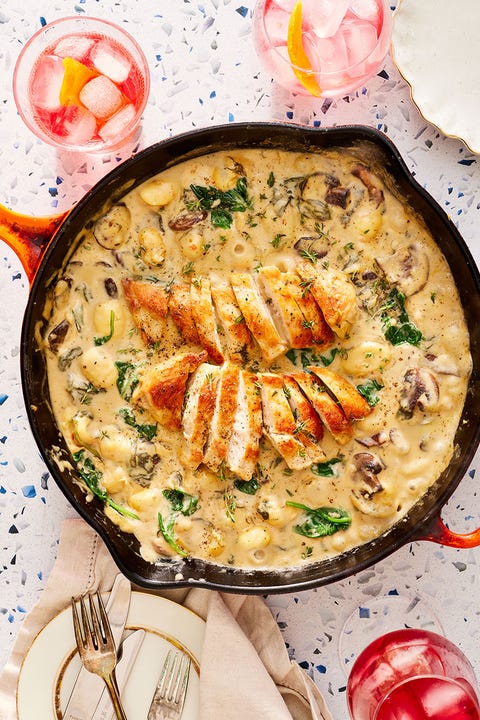 ERIK BERNSTEIN
When everything cooks together, everyone wins. The chicken here finishes cooking in the sauce, making it the easiest comfort meal ever. It's what weeknight dinner dreams are made of!
Get the One-Pan Creamy Chicken & Gnocchi recipe.
20
Air Fryer Pork Chops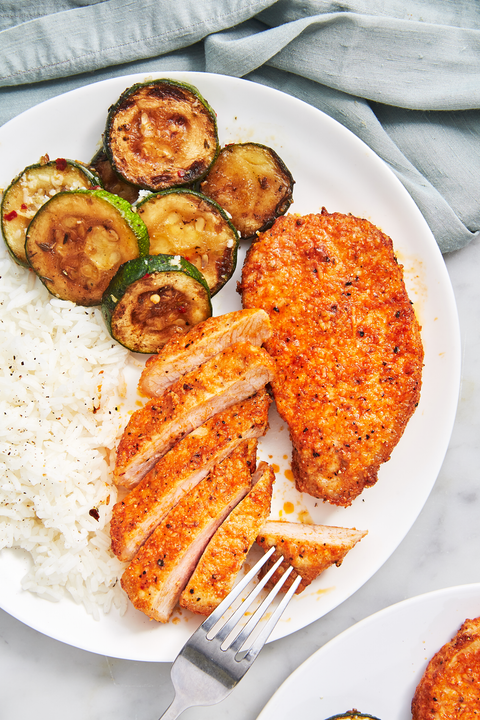 PARKER FEIERBACH
Due to the intense heat circulation that happens in the air fryer, the outside of these chops crisps slightly while the inside stays nice and juicy. Twenty minutes later—most of it hands-off time—and it's basically instant dinner.
Get the Air Fryer Pork Chops recipe.